Here is the fourth newsletter that I sent home for the parents. This one tells parents to allow their child to self monitor their own reading rather than stopping them immediately to fix their errors. You can get all four newsletters by clicking on the picture. More to come throughout the school year!
I am also participating in a 2 different Giveaways. The first one is from Hilary over at Rockin' Teacher Materials. You do not want to miss this giveaway. Click on the button below to head over to Hilary's blog and get entered!! It ends on October 27th.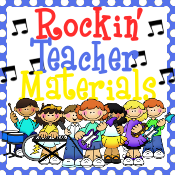 The other is for Tales From Room 112. Click on the button to enter!
I am donating my Guided Reading Lesson Plans Levels A-N so go on over to both blogs so that you can win it along with many other items!
Here are a couple of pictures from my Halloween Party- just in case you are curious:)
This is me!! Zombie Prom!!
Some of the girls in a typical "prom" pose!!
Spooky, aren't we??
We had a blast!! I LOVE Halloween!!