First off, I am SOOOOO thrilled to have a new blog design! I started this blog about a year ago and have done everything myself. I've learned a lot but my artistic ability isn't all that great! Misty and Erika over at Honey Bunch Blog Design helped me out and they did a fabulous job! I am still tweaking a few things that I want to change but it is mostly finished... YIPPEE! Here's their button if you want to check them out.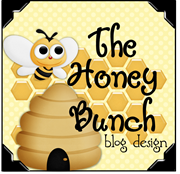 On another note, I am starting the Clutter Free Classroom Project. These first couple of weeks involved taking pictures of the "clutter". I took some pictures of my classroom (and some close up shots...) here are a few of them. I am not the most organized person and I'm not the messiest either. I'm kind of a tweeny... is that a word??
I have actually felt more organized this year than I ever had which is crazy when you think about it- I feel like I am working two jobs at times but yet I am more organized. I'm not really sure how that works. I do know one thing.
Mel, from over at the pond
, had a blog post at the beginning of the school year and one thing she said she does to stay organized with paperwork is to- ONLY TOUCH IT ONCE. Who knew that this could be such an awesome tip. When I get my mail, or have papers from somewhere, I have been learning to just put it away- right away- this has been very helpful to me this year.
Anyway, here are a few pics...
Okay... so not too bad so far... here are some close ups on some problem areas- Time to open up the drawers!
OUCH!! There are things in here that I haven't touched in 8 years...
Well, I do have some more that I will share later. But, I think this is a good start. I don't want to freak myself out too bad during the first week!